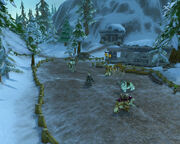 Amberstill Ranch is a location in Dun Morogh on the road to Loch Modan. It lies just off the road on the north side near Gol'Bolar Quarry. You can buy a Snowshoe Rabbit small pet here, as well as accept a quest,
 [12] Protecting the Herd to kill a Wendigo named Vagash. Amberstill Ranch also has a Riding trainer and mount vendor, from whom dwarves (or players of any other Alliance race who have obtained exalted Ironforge reputation) can buy a ram to ride.
Prior to

, only dwarves and people with Exalted reputation with Ironforge could learn riding skill here, but now the trainer works with any
Alliance race.[citation needed]