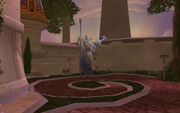 The Antonidas Memorial is located between the Magus Commerce Exchange and Sunreaver's Sanctuary in Dalaran. It is a monument to the late archmage Antonidas, the previous leader of the Kirin Tor, who was killed by Arthas Menethil shortly before the fall of Dalaran. A marker stone was added when Wrath of the Lich King went live which reads:
Archmage Antonidas, Grand Magus of the Kirin Tor
The great city of Dalaran stands once again - a testament to the tenacity and will of its greatest son.
Your sacrifices will not have been in vain, dearest friend.

With Love and Honor,
Changes in Legion

This section concerns content exclusive to Legion.

Note: This is a generic section stub. You can

help expand it

by clicking

 Edit to the right of the section title.