Arcane Missiles

Arcane Missiles

40 yd  range
Launches five waves of Arcane Missiles at the enemy over 2 sec, causing X Arcane damage per wave. Generates an Arcane Charge.

Arcane Missiles' damage is increased by 50% per Arcane Charge.

Arcane Missiles has a chance to be activated after each of your damaging spell casts. Limit 3 charges.

Usable by
Class
Mage
Properties
Type
Offensive
School
Arcane
Casting time

Channeled

Cooldown
 (GCD 1.5 sec)
Talents
Specialization
Arcane
Level required
24

TCG

image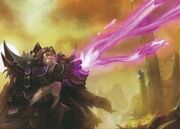 | | | |
| --- | --- | --- |
| " | As mage spells go, this one isn't the showiest. Nonetheless, you'll find it quite effective. | " |
Arcane Missiles is a mage ability learned at level 24 for those who have chosen the Arcane specialization. It is a channeled spell that shoots a series of missiles at the target, one wave each second over a period of time, dealing direct arcane damage.
Modified by

Arcane specialization talent

Arcane specialization ability
Notes
Arcane Missiles has a chance to be activated after every damaging spell cast.
It will generate an

[Arcane Charge]

; while at least one charge is available, it will increase Arcane Missiles' damage.
Unlike other channeled spells, each second (or "tick") is considered a separate direct damage missile which passes through the normal direct damage checks (crit, resistance).
An often overlooked PvP benefit is the rapid speed with which it hits opponents causes regular spell interruption. Between this and

[Slow]

, an Arcane mage can make it exceedingly difficult for an enemy player to get off spells with a cast time.
A notable effect of the fact is that "on spell hit" abilities, such as Mark of Defiance, can proc off each missile, similar to "on spell crit" abilities. However, "on spell cast" abilities, such as Mystical Skyfire Diamond, only have a chance to proc on each casting of the spell, not on each bolt.
This spell can also be useful against rare enemies who are immune/resistant to both Fire and Frost damage. One example of those is the Boiling and Scalding elementals in Thousand Needles, immune to Frost and highly resistant to Fire.
Patch changes
External links