(16 intermediate revisions by one other user not shown)
Line 9:
Line 9:
 

|prof=Riding (300)

 

|prof=Riding (300)

 

|level=70

 

|level=70

 
+

|unique=1

 

|effect=Use: Teaches you how to summon this mount. Can only be summoned in Outland or Northrend. This is a very fast mount.

 

|effect=Use: Teaches you how to summon this mount. Can only be summoned in Outland or Northrend. This is a very fast mount.

−

|vendor={{cost|cs=250}}

+

|vendor={{|}}

 

|ilvl=70

 

|ilvl=70

 
+

|Champion's Seal=150 required

 

}}</onlyinclude>

 

}}</onlyinclude>

 
 
−

[[Image:ArgentHippogryph2.png|thumb]]

+

[[:.|thumb]]

 

== Source ==

 

== Source ==

−

This mount was released in [[Patch 3.1.0]] as part of the new [[world event]], the [[Argent Tournament]]. It can be purchased from the tournament [[quartermaster]] for {{cost|cs=250}}, the currency for the tournament.

+

This mount was released in [[Patch 3.1.0]] as part of the new [[world event]], the [[Argent Tournament]]. It can be purchased from the tournament [[quartermaster]] for {{|}}, the currency for the tournament.

 
+

Argent Hippogryph= In-Game Images= [https://sites.google.com/site/argenthippogryphpictures/home/Picture%203%20JPEG.jpg] Check it Out!

 
+
 
+
 
+

https://sites.google.com/site/argenthippogryphpictures/

 
+
 
+

''Ethan 1''

 
+
 
+

==Patches and hotfixes==

 
+

{{Patch 3.3.0|note=Added ground animations for standing, walking, and running}}

 
+

{{Patch 3.1.2|note=Cost reduced to {{cost|cs=150}} from {{cost|cs=250}}}}

 
+

{{Patch 3.1.0|note=Added}}

 
 
 

== External links ==

 

== External links ==

Line 24:
Line 37:
 

Have a nice day. :) -->

 

Have a nice day. :) -->

 

{{Elinks-item|45725}}

 

{{Elinks-item|45725}}

 
+
 
+

{{Mountfooter|Hippogryph}}

 
+

[[Category:Hippogryphs]]

 
⚫
 
+

[[Category:World of Warcraft flying mounts]]

 

[[Category:Argent Tournament]]

 

[[Category:Argent Tournament]]

⚫
 
---
Latest revision as of 21:06, 12 January 2011

Argent Hippogryph
Item Level 70
Mount"Mount" is not in the list (Cloth armor, Leather armor, Mail armor, Plate armor, Axe, Dagger, Fishing pole, Fist weapon, Mace, Miscellaneous, ...) of allowed values for the "Item type" property.
Requires level 70
Requires Riding (300)
Use: Teaches you how to summon this mount. Can only be summoned in Outland or Northrend. This is a very fast mount.
Vendor 150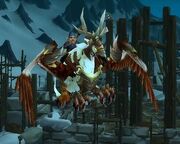 Source
This mount was released in Patch 3.1.0 as part of the new world event, the Argent Tournament. It can be purchased from the tournament quartermaster for 150

, the currency for the tournament. Mount Purchase Requires=150 Champion's Seals earned from completing the different parts of the Argent Tournament. More Info on Champion's Seal= [1] In-Game Images= [2] [3] Check Them Out! Argent Hippogryph= In-Game Images= [4] Check it Out!

https://sites.google.com/site/argenthippogryphpictures/
Ethan 1
Patches and hotfixes

Patch 3.3.0 (08-Dec-2009): Added ground animations for standing, walking, and running


Patch 3.1.2 (2009-05-19): Cost reduced to 150

from 250


Patch 3.1.0 (14-Apr-2009): Added

External links
Community content is available under
CC-BY-SA
unless otherwise noted.