Arra'chea is a level 11 named kodo who can be found roaming the hills just east of Thunder Bluff. Its horn is sought by Cairne Bloodhoof.
Abilities
Head Butt (Stuns an enemy, rendering it unable to move or attack for 2 sec.)
Loot
Notes
Arra'chea hits much harder and has more health than most other level 11 creatures. [citation needed]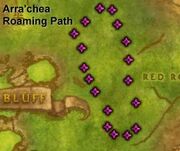 Arra'chea is sometimes hard to find. It spawns near the northeast corner of Thunder Bluff and follows a clockwise circular path around the plains of Mulgore.
External links