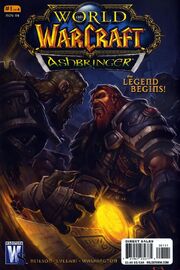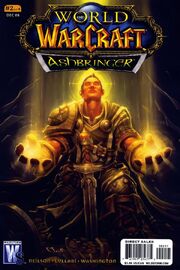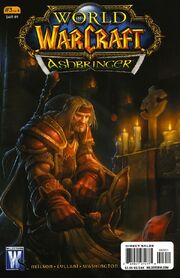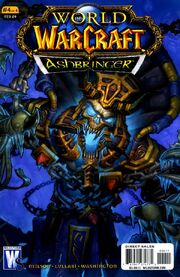 Ashbringer is a comic four-part[1] mini-series from the World of Warcraft Wildstorm comic series which sets in the Warcraft universe and was released monthly in a standard western comic format. It was written by Micky Neilson and the art was done by Ludo Lullabi and Tony Washington.
The covers were designed by Chris Robinson, Ludo Lullabi, and Tony Washington. Every issue in the series featured two covers. For every ten copies of the Standard Edition (with a cover by Chris Robinson), retailers were permitted to order one copy of the Variant Edition (with a cover by Lullabi and Washington).
The series recounts the story of the Ashbringer and Alexandros Mograine.
Background
As the Lich King's plague of undeath ravages the human kingdom of Lordaeron, a mighty blade is forged from a dark orb! In the hands of Highlord Alexandros Mograine, the blade will become legend. In time, both blade and man will become . . . Ashbringer. In anticipation of the eagerly awaited game expansion, World of Warcraft: Wrath of the Lich King, WildStorm and Blizzard have created this 4-issue miniseries written by Blizzard Creative Director Micky Neilson and featuring art by Ludo Lullabi and Tony Washington.
Books
Characters
Others
Mentioned
Locations
Video
 	 	   

References
Warcraft books
Book type
Comic books