Were you looking for the Battle.net Mobile Authenticator (mobile smartphone application)?
The Battle.net Authenticator (previously called the "Blizzard Authenticator") is a small device (fits easily on a keyring) that enables you to secure your account by an additional code, consisting of 6 digits.[1] As of 2015, Blizzard support may refer to the mobile app interchangeably as the "Battle.net Authenticator".
As explained in the old Authenticator FAQ:
How does the Battle.net Authenticator work?


You must first associate the Battle.net Authenticator to the World of Warcraft account you play. Once the account has been linked, the Authenticator token will be required to log in to Account Management or to the game; when logging in, you will be prompted to supply a digital code generated by the Authenticator.
Technical specs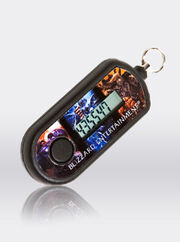 This device is a custom manufactured VASCO Digipass GO 6 device.
Weight: 14 grams
Dimensions: 9,8 x 25,9 x 62,7 mm
Display: high contrast 8-characters LCD
Keypad: one-button
Real-time clock to provide time value to DIGIPASS algorithm
Supported crypto algorithm: DES, 3DES and AES
Supported algorithms: DIGIPASS time and event based & OATH event based (on demand)
Battery: non-replaceable, lifetime expectancy 7 years[2]
Logins affected by the authenticator

This section concerns content that is out-of-date. Reason: Needs to be checked.
Recent changes have occurred that means players may not be prompted to input their authenticator code every time they log in:

Battle.net Authenticator Changes | 2011-06-16 00:00 |
Zarhym
If you use an authenticator – and we hope you do – you may soon notice that an authenticator prompt may not appear with every login. We've recently updated our authentication system to intelligently track your login locations, and if you're logging in consistently from the same place, you may not be asked for an authenticator code. This change is being made to make the authenticator process less intrusive when we're sure the person logging in to your account is you.
Need to disable lost authenticator

2010-06-02 00:00 |
Malkorix
Q u o t e:
I need my authenticator disabled because I lost it and I can't buy a new one because it asks me to enter my authenticator code. So if I can get it disabled for the time being, that would be great.
We are unable to process this kind of Authenticator removal via the forums. In a case like this, it will be necessary to contact our Account Services staff directly. You can do so via telephone or email at billing@blizzard.com. If you use email, it may be best to have a Terms of Use form prepared in advance:
Battle.net Terms of Use Form http://us.blizzard.com/support/article.xml?locale=en_US&articleId=26361

Here's our Account Services contact information for your convenience:
Billing & Account Services


Phone Support - 1 (800) 59-BLIZZ (1 (800) 592 5499)
Live Representatives Available 8am to 8pm PST
E-mail Support - Billing@Blizzard.com


If you are located in Australia you should use 1-800-041-378 if you cannot get through with the number above.
If you are located in Singapore you should use 800-2549-9273 if you cannot get through with the number above.
Latin American and International callers without access to our 800 numbers may use: (949) 955-0283

Technical issues
The Authenticator can stop working as intended, showing a "Disabled" message on the display instead of the random 6 digits code, becoming useless. The button becomes unusable and the displayed message will not disappear.
To log back and remove Battle.net Authenticator from your account you need to contact World of Warcraft billing department providing this info:
Your full real name.
Your full address including postal or zip code.
Your full email address (currently registered on the account).
Your account name.
The authentication key used to create the account.
Your Secret question and answer.
The last 4 digits of the credit card used on the account plus the expiration date OR the full code of a game card activated on the account.
A legible fax, scan or photo of a piece of government-issued photo identification, such as a passport or driving license matching the first and last name of the registered account owner.
A legible fax, scan or photo of the Authenticator token, with the code on the back fully visible.
The Battle.net Authenticator has 2 month warranty. If you need to replace nonworking Battle.net Authenticator you need to post Authenticator in question, along with a print out of the order form from the Blizzard Store account management page as a proof of purchase to the World of Warcraft billing postal address of your region.
European Address
Blizzard Entertainment Europe
Billing Support
TSA 60 001
78143 Vélizy Villacoublay Cedex
France
There are reports on the official forums[citation needed] about other authenticators malfunctions like being stuck on the 6 digit code or generating random letters+numbers codes that doesn't work. The one pictured above and to the right worked for 2 weeks before it malfunctioned.
Security Issues
There have been reports of compromised accounts having an authenticator added to prevent the true owner regaining access to their account and preventing the sale of items.[3][4]. This may be due to a zero-day attack that may not yet be picked up by your anti-virus or Spybot S&D etc. If this happens, you are recommended to follow the advice posted by Blizzard on their technical support forums, Account Security[5]. See also the WoWWiki Security guide.
Media
Images
Videos
References
See also
External links
US

Battle.net Support (US)
Battle.net Authenticator
(Updated: Jan 23, 2014; Article ID: 100588)

US Blizzard Gear
BATTLE.NET AUTHENTICATOR - BLIZZARD LOGO (UNITED STATES ONLY)
$6.50
EU

Battle.net Support (EU)
Battle.net Authenticator
(Updated: 11-Oct-2013;Article ID: 100588)

Battle.net Support (EU)
Blizzard Store: Availability of Physical Products in Europe
The physical Battle.net is not avilable directly from Blizzard (Updated: 20-Dec-2012; Article ID: 4600046)
Info

FranksPlace.org
Battle.Net Authenticator Information

WoW Insider
How to replace a keyfob authenticator with a smartphone Battle.net authenticator
by Michael Gray Mar 31st 2012 at 6:00PM
News

Battle.net Support (EU)
Blizzard Store: Availability of Physical Products in Europe
Updated: 20-Dec-2012, Article ID: 4600046

Official General Discussion forum (US)
#1 - Battle.net Authenticator By-Pass Now Active
by

Daxxarri, 11/29/11 12:44 PM

WoW Insider
Opt-out option incoming for recent authenticator security change
by Michael Sacco Jul 26th 2011 at 8:00PM