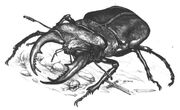 Beetles are insects found in a few areas of Azeroth. Some small beetles are critters, while larger ones are beasts. They are not silithid, although some silithid look like beetles. Those hardy insect can dwell in just about any climate and are known to thrive on battlefields after the fighting has ended.
Hunter pet
Specialization (upon taming)
Tenacity
The Beetle eats


The Beetle comes with


All pets come with


Though hunters can respec their pet beetles into Cunning or Ferocity, they are inherently Tenacity. In addition to the abilities that come standard with all pets ([Growl] and [Avoidance]) and those given to their natural or retrained specialization, all beetles are given the following:
Subspecies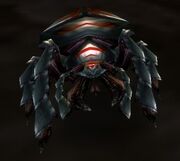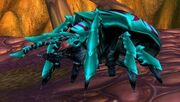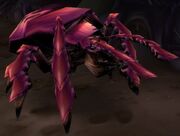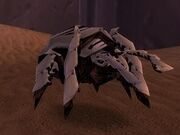 The subspecies below can be tamed by hunters.
Black
   [50-51]  

Borer Beetle

  [55]  

Vile Scarab

  [58-59]  

Cursed Scarab

(spawned)
   [60]  

Qiraji Scarab
Blue
Brown
Green
   [34 Rare]  

Silithid Harvester

  [83]  

Emerald Scarab

(green & red)
Orange
Purple
Red
White
   [50-51]  

Borer Beetle

   [60 Elite]  

Spitting Scarab
Yellow
   [52-53]  

Gorishi Tunneler

   [55-56]  

Hive'Zora Tunneler

   [57-58]  

Spire Scarab
Named
Mobs with levels can be tamed by hunters.
Vanity/Battle pet
Notes
Beetles commonly feed on plants and other smaller insects, though some species have developed very strange appetites. One species feeds entirely on ash and another is said to feed directly off the chaotic energies of the Old Gods.[citation needed]
Beetles and their larvae have a variety of strategies to avoid being attacked by predators or parasitoids.
Patch changes
Patch 4.0.3

(15-Nov-2010): Added as a tamable pet family.

External links

Petopia

WarcraftPets