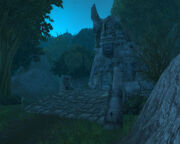 Beggar's Haunt is located in northeastern Duskwood, east of Manor Mistmantle and north of the road that leads into Deadwind Pass. The tower is home to Abercrombie.
A twisting path leads from the tower to a small pool and waterfall, near which rests an unmarked grave with two large statues similar to the ones on the Dark Portal (See Knight's Hollow).
NPCs
Quests
Pre-Cataclysm
Before the Cataclysm, the tower was Horde-aligned and held two agents of the Forsaken - Deathstalker Zraedus and a member of the Royal Apothecary Society named Apothecary Faustin. Both were Level 40 PvP and agressive.
References