BlizzCon 2007 took place at the Anaheim Convention Center California, August 3rd and 4th 2007.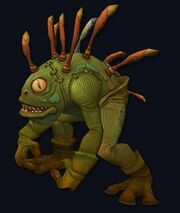 BlizzCon 2007 Lineup
Events
Panels
World of Warcraft

Class Discussion
Dungeons & Raids
Lore & Quests
Professions & Items
Art

StarCraft
General

Careers in Gaming
Expanded Universe
Legendary Pictures & WoW Film
Tournaments
Goodies
All BlizzCon attendees had received their share of free Blizzard swag[1]. As at the first BlizzCon, they had also been providing a beta key for an upcoming Blizzard game (StarCraft 2 or perhaps a second World of Warcraft Expansion). Also an in-game murloc suit, an item that can be redeemed and given to your favorite World of Warcraft character and a special murloc ally card, Mrglrglmrglmrrrlggg.[2]
Sources
External links
Updated 15 Aug 2007.
Blizzard
General
World of Warcraft: Wrath of the Lich King
Photos