Were you looking for the Battle.net Shop?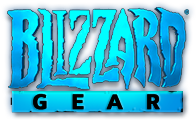 Blizzard Gear (in Beta as of February 2014) is the initially US-based (prices started in USD) return of the former "Blizzard Store" on the web and is intended for physical goods purchases as opposed to virtual ones featured in the Battle.net Shop. They have a variety of merchandise available, including Apparel, Plush, Toys, Statues, Peripherals and more. The EU version opened June 4, 2018 with access to 28 EU member countries.[1] THe EU grand opening technically happened on June 25, 2018.[2] Prior to that customers could purchase physical goods from the US store which offers world-wide shipping.
References
See also
External links

Blizzard Gear (US)

Blizzard Gear (EU)
FAQ (EU-only)
News

Blizzard News
(US) 
Blizzard European Gear Store Grand Opening
By Blizzard Entertainment June 25, 2018

OverwatchWIRE
Blizzard opens official European gear store
By: Chris Katsuragi June 4, 2018 2:13 pm

Blizzard News
What's New in the Gear Store
Consumer Products; May 21, 2018

WoW Insider
Blizzard store re-opens
by Adam Koebel Feb 3rd 2014 3:00PM
Community content is available under
CC-BY-SA
unless otherwise noted.