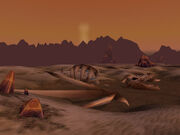 The Bones of Grakkarond lie in central Silithus. They are the huge bones of the bronze dragon Grakkarond, who died during the War of the Shifting Sands.
He was slain by Ossirian the Unscarred.
Patch changes
Patch 1.4.0

(2005-05-05): The dragon bones just to the southwest of The Swarming Pillar in Silithus have been named the Bones of Grakkarond.