m

m

Line 1:
Line 1:
 
⚫
−

<noinclude>__NOTOC__</noinclude>

 
⚫
 
 

|mode={{{mode|}}}

 

|mode={{{mode|}}}

 

|arg={{{arg|}}}

 

|arg={{{arg|}}}

Line 14:
Line 13:
 

|ilvl=1

 

|ilvl=1

 

|cooldown=5 mins

 

|cooldown=5 mins

−

}}<noinclude>

+

}}<>

 
 
 
 
---
Revision as of 20:24, 19 October 2008

Bouquet of Red Roses
Held In Off-hand"Held In Off-hand" is not in the list (Back, Chest, Feet, Finger, Hands, Head, Held in off-hand, Legs, Main Hand, Neck, ...) of allowed values for the "Item slot" property.
Use: Shower a nearby target with a cascade of rose petals!
Cooldown: 5 mins

The Bouquet of Red Roses is a novelty off-hand item. When you use the bouquet, it causes huge petals to fall from the sky above the target player or NPC.
Source
During the Love is in the Air event, the Bouquet of Red Roses drops from: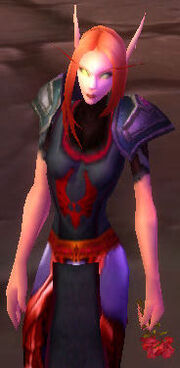 Notes
The bouquet has the same effect as a Handful of Rose Petals.
External links
Community content is available under
CC-BY-SA
unless otherwise noted.