Were you looking for the NPC Briarthorn, the Warlock trainer?
---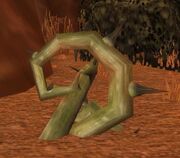 Requires 1 Herbalism to gather.
Source
Briarthorn can often be found near Quilboar settlements and at the base of trees in level 10-25 zones. Rarely, Swiftthistle can be harvested along with Briarthorn by picking Briarthorn Nodes.
Pickable Zones
Briarthorn as an Ingredient
Alchemy
Inscription
Lore
According to legend Briarthorn grows where Agamaggan's blood touched the soil of Azeroth, especially after he fell in the War of the Ancients.
Quilboar magic users often use Briarthorn based spells along with Geode and Earth magic. The Briarthorn holds great significance to the Quilboar race being a food source and a building material, as well as being the growth of their patreon Agamaggan.
Some Briarthorns come to live via nature magic and gain temporary sentience, able to move where it wants for short distances and attack what it wants, launching thorns (often toxic) at enemies.
External links

Briarthorn Farming - OmgNab.com