Were you looking for general event calendar info?

The in-game calendar, added in the 3.0.2 content patch, shows in-game realm events and allows players to add their own events including raid scheduling.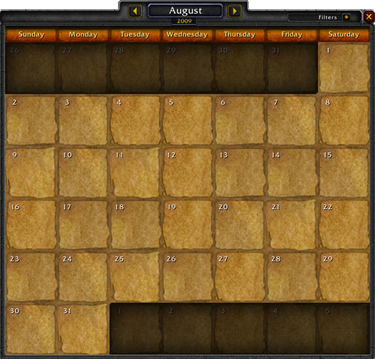 The calendar window is accessed from a large round button at the upper-right edge of the minimap or through the slash command /calendar.
Accepting/Declining events
If you see your calendar button flashing (top right of mini map), that means you probably have been invited to a new event waiting to be "Accepted" or "Declined". Click the calendar button, and you should see a large "?" on the day of the event in question. Simply click on the event, read the description, and either "Accept", "Decline", or "Remove" the event.
If you "Accept", you will be marked as "Accepted" and the Event Leader and Moderators can modify your status to: "Confirmed," "Standby". or "Out"
If you "Decline", you will be marked as "Declined".
If you "Remove", you will remove yourself completely from the event list, as if you were not invited.
Creating events
The individual that creates the event gets a solid crown next to their name. Event "Creators" have full control of the event. They can:
Appoint

Event Moderators

.
Perform same actions as Event Moderators.
Modify event type/location/start time/info text.
Perform "Mass Invite".

Mass invite has two options: "Level range" and "Rank".
For example, select:

"70-70, Initiate" and all level 70 chars in the guild get an invite.
"1-90, Initiate" and ALL guild chars get invited. *Note: You can only mass invite 100 members, meaning the smaller guilds will be able to use this type of invite but the larger guilds may not be able to fully utilize this feature.
"1-20, Abbott" and only "Abbott" ranked and above "banker" chars are invited.
Ability to create events is given by the Guild Leader to selected ranks though the "Guild Control" option.
Moderating events
Event Moderators have an "Outlined Crown" next to their name. Event Moderators can be appointed by the Event Creator or other Event Moderators. Event Moderators, do NOT have a "Mass Invite" ability, but can:
Invite individuals.
Modify any individuals status to the following options:

Confirmed, Standby, Out, Accepted, Declined

Modify event info text.
Modify event start time/location,
Announcements
Announcements are simple ways to announce something to the guild.
Announcements can be added to the calendar in the same way as events. They can be flagged as Raid/Dungeon/Etc..Etc...(verify)
No one has to Accept/Decline and no one is listed as "Invited" to an "Announcement".
Notes
When an event is deleted, all invited (accepted/declined? - verify) guild members are notified via in-game mail.
Sometimes, past events cause minimap calender button to flash until deleted. (Event Moderators and Creators only? - verify)
Even deleting past events notifies all participants via in-game mail. (verify)
You can Accept/Decline/Moderate events though the Armory.
External links

WoW Official Game Site (US)
In-game Events

WoW Official Game Site (EU)
In-game Events

Wowhead
World Events
News

Official WoW Site (US)
In-game Events Page Now Live
by Blizzard Entertainment June 4th, 2013
Official WoW Site (EU)
In-game Events Page Now Live
by Blizzard Entertainment May 24th, 2013
Old
For another, more comprehensive guide, see Calendar Info from WoW Forums User