Chain Heal

Chain Heal

40 yd  range
28% of base mana
2.5 sec

cast

Heals the friendly target for x, then jumps to heal the most injured nearby party or raid members. Healing is reduced by 10% after each jump. Heals 4 total targets.



Improved Chain Heal (Level 92+)


Increases the healing on the primary target of your Chain Heal spell by 50%.

Usable by
Class
Shaman
Properties
Type
Utility
School
Nature
Casting time
2.5 sec

cast

Cooldown
 (GCD 1.5 sec)
Talents
Specialization
Restoration
Level required
44

TCG

image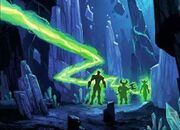 | | | |
| --- | --- | --- |
| " | Dis voodoo be good for joo, mon. | " |
Chain Heal is a core shaman ability learned at level 44 for those with the Restoration specialization. It is a multi-target healing spell that can heal up to four targets. It is very mana-efficient.
Modified by
Talents
Restoration abilities
Notes
Chain Heal is a 'smart' heal and always jumps to the eligible target with the largest health deficit in range. The bounce radius is 12.5 yards. Since the targets are linked into a chain, targets must be within range of each other, in order of "bounce". The chain cannot jump back to heal the same target more than once.
Chain Heal has a separate chance to crit on each target.
Patch changes
External links