Previewed at BlizzCon 2011, Challenge Modes was a new system of dungeon challenges, like time trials. Players race to the end of the dungeon, competing for fast times in order to win medals (Gold, Silver, or Bronze).
In Legion

This section concerns content exclusive to Legion.
Challenge Mode receives an upgrade in the World of Warcraft: Legion expansion, approached as a small step above heroic mode.[1] A [Challenger's Keystone] can be used by an interested player:
Points to a random Legion dungeon
Power level determines difficulty and reward

Progression has no current cap

May have additional modifiers
Beat the timer to upgrade the stone in order to access higher difficulty and, thus, higher rewards
Failing results in depletion of the stone, but participants still receive loot
Additional dungeon modifiers might include:
Enemies enraging at 30% health
Extra enemies
Corpses exploding shortly after death
Periodic damage over time taken by group members
Rewards:
Loot chest at the end of each run
Jackpot for highest level completed each week
Alternate path to raiding
End of season
The

Mists of Pandaria Challenge Modes season ended before the

Warlords of Draenor expansion.
Changes after season ended:[2]
Achievements: All achievements associated with Mists of Pandaria Challenge Modes will become Feats of Strength.
Rewards

Bronze: The "<Name the Undaunted>ω ϖ" title for achieving a full set of Bronze medals will become account-wide.
Silver: The Pandaren Phoenix mounts awarded for a full set of Silver medals will become account-wide. If any character on an account has earned a full set of Silver medals, all four variants of the Pandaren Phoenix (

[

Crimson

]

,

[

Ashen

]

,

[

Violet

]

, and

[

Emerald

]

) will become available to all characters account-wide.
Gold: The cosmetic class sets will remain character-specific. Any character that has earned all nine Gold medals will still be able to repurchase the appropriate set, should they misplace theirs, from  

Challenger Soong

or  

Challenger Wuli

in the Vale of Eternal Blossoms. Any characters that have earned one or more "Challenger's Path" teleport spells by earning Gold medals in Mists Challenge Modes will retain those spells.
Realm Best Titles: There are extremely limited titles that are held by the players who hold the best clear time for a given dungeon on a given server. Since those Challenge dungeons will no longer be available in Warlords of Draenor, their respective titles are also being permanently removed. However, players with the best clear time for any challenge mode dungeon on a server will be awarded the title of "Mistwalker." There will be new Challenge dungeons in the upcoming Warlords season, and new titles for which to contend, however.
Background
From the official World of Warcraft: Mists of Pandaria website:[3]
The clock is ticking. Your group is making good progress, but you realize that if you don't hurry and work as a team, you will never make it in time. You approach the dungeon's last boss with a look of grim determination on your face; you will get that gold medal this time, come what may. He's almost down, but there are only seconds left on the timer. You yell at your group mates to give it their all for one last push, fingers flying across your keyboard. Finally he drops, and your group screams triumphantly: you've beaten the dungeon's best time. You've mastered its Challenge Mode.
Information
From the official World of Warcraft: Mists of Pandaria website:[3]
Mists of Pandaria's Challenge Mode presents a new way to reward great team players and seasoned dungeon specialists. The idea is simple: if you select Challenge Mode for a dungeon, you and your group will be racing against the clock to finish the dungeon as quickly as possible. The faster you finish, the greater your reward.
You select Challenge Mode before you enter a dungeon. In this mode, your objective is to clear the instance and down all the dungeon's bosses as fast as you can. Your gear will be normalized, meaning that instead of your own equipment you will be fighting using a set of items that's appropriate for the instance. That way, the challenge level will be equal for all players. Depending on how quickly you clear the dungeon, your group can earn one of three possible medals: gold, silver, or bronze. Working together as a team, communicating well, and supporting and encouraging each other is the best way to get those shiny gold medals.
So practice your pulls, lay out your strategies, and remember that communication and coordination are key. Challenge Mode is coming. Are you ready?
Challenge modes should be enabled for all 6 of the expected Pandaria dungeons and the 3 updated dungeons.[4]
Challenge mode runs will be cross-realm.[5]
*Note - Mists of Pandaria Challenge modes will be retired in the Warlords of Draenor pre-patch 6.0 to prepare for the upcoming versions. All Challenge mode achievements, from Mists of Pandaria, will be converted to Feats of Strength.
Restrictions
Item level
Any gear worn above item level 463 will be scaled down.[6]
Gear will retain all hit and expertise, so players can remain capped. Stats that will be scaled down are secondary ones.[6]
Challenge
Level 90 or 100 Heroic mode dungeons
Challenge Modes are timed heroic instance runs.[6]
For level 90 dungeons: Gear over 463 is scaled down to 463.[7]
For level 100 dungeons: Gear over 630 is scaled down to 630.[8]
Results and rewards
Rewards are received at the end of each challenge. The best rewards are given to those who can achieve gold medals. Things such as armor, titles, and mounts have been mentioned as possible rewards for those who are willing enough to complete the hardest difficulty and earn a gold medal.[3]
There are three tiers of achievements and rewards: gold, silver, and bronze.[6]
Player's UI will show medal tabulation, record times, rewards, and how much time mid-run until you hit the next bracket.[6]
Note: It is not clear if Wowhead DB info was actually pulled from game data or manually inserted based on observation or speculation.
General rewards
Gold rewards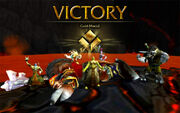 Achievement and item
Completing individual dungeons at gold level gives an achievement: dungeon name: Gold

It appears that completing a dungeon challenge mode on Gold will unlock an ability called

[Challenger's Path]

, enabling you to instantly teleport to that dungeon's entrance whenever you choose.[9]

Completing the Gold level on all dungeons rewards an achievement,  

Challenge Conqueror: Gold

ω ϖ and a full set of class-specific transmogrifiable armor.[10]
Completing the Gold level on all dungeons while in a guild group rewards an achievement,  

Challenge Conquerors: Gold - Guild Edition

ω ϖ, and the

[

Thundering Serpent Hatchling

]

companion.[10]
Non-item
Silver rewards
Achievement and item
Non-item
Bronze rewards
Achievement and item
Completing the Bronze level on all dungeons rewards an achievement and title, [3]  

Challenge Conqueror: Bronze

ω ϖ a
Non-item
Challenges finder
Starting a challenge mode instance can be done through the Dungeon Finder window via the "Challenges" tab.
Leaderboard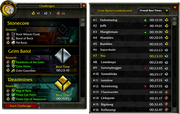 Challenge participants can compare their performance to others who attempted the various challenges, their ranks, times and medals.[16] The UI will give info about potential rewards based on the medals achieved.
Realm and Challenge-mode leaderboards
References
External links
Achievements
Guides
News