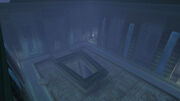 The Chamber of the Moon
[33.8, 18.8]
sits below the Obelisk of the Moon in the northwest area of Uldum. It is by far the largest of the Chambers in the zone and the last that players traverse through while aiding Harrison Jones in reactivating the Obelisks and finding the Coffer of Promise.
Inhabitants
Only in lower level.
Initial phase
During

I'll Do It By Hand

(replaces above mobs)
Quest givers
Notes
After completing I'll Do It By Hand, the Chamber is empty.
Media
Patch changes
External links