Cinderbloom is found in all the new Cataclysm zones except for Vashj'ir. It grows primarily in scorched, fiery areas.
Cinderbloom as an ingredient
Cinderbloom is used in the following recipes:
Alchemy
Cinderbloom...?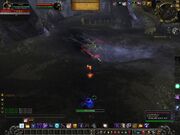 In Tol Barad, Cinderbloom NPC's have been found and can be targeted, killed, and even [Mind Controlled] by Priests. They are level 1, and if killed, do not drop loot. This is most likely a bug which will be removed.
Patch changes
External links

WoW Farming - Cinderbloom
Farming maps and information