Conjured Cinnamon Roll

Item Level

65

Requires level 55
Use: Restores 4320 health over 30 sec. Must remain seated while eating.
10 Charges
A Conjured Cinnamon Roll is created by mages and helps restore health to wounded comrades.
Source
This item is conjured by mages using the rank 7 spell Conjure Food. A level 60 mage will create 10 charges per cast, the number of charges increases by 2 each level up to a maximum of 20 (at level 65).
As of patch 2.0, this spell rank is taught by the mage trainers. It is also taught by the [Tome of Conjure Food VII] dropped by Archivist Galford in the Scarlet Bastion of Stratholme.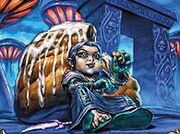 Notes
Like other conjured items, this item will disappear from a character's inventory after they have been logged out for more than 15 minutes.
External links