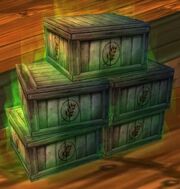 Conspicuous Crates were found on the docks of Booty Bay and in most of the Capital cities. The crates were a part of the Zombie infestation world event.
When used by a player it caused them to be infected with the plague that eventually turned them into a Plague Zombie.
Content
Foreboding runes are carved on the side of this crate...
External links