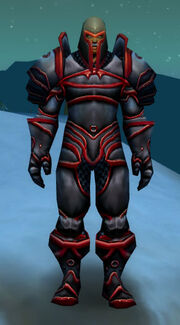 Dark Iron Leggings are plate legguards made by Blacksmiths that provide a bonus to stamina and fire resistance.
Source
Dark Iron Leggings are crafted by Blacksmiths with a skill level of 300 who also have the Armorsmith specialty. This item can only be crafted at the Black Anvil.
The components are:
[Plans: Dark Iron Leggings] are sold by Lokhtos Darkbargainer in Blackrock Depths. You must have Revered reputation with the Thorium Brotherhood to purchase the plans.
External links