Darkwhisper Gorge
[85, 45]
is an area in the eastern part of Mount Hyjal under control of the Twilight's Hammer clan. It winds through a large area that includes the Seat of the Chosen, the Twilight Gauntlet, and Doom's Vigil, leading all the way to the Forge of Supplication. Darkwhisper Gorge and the surrounding areas are part of a multi-phased zone.
Inhabitants
Initial phase
Intermediary phase
Final phase
Pre-Cataclysm
Darkwhisper Gorge was an area in the far south of Winterspring which consisted of a network of tunnels and chasms. This area was inhabited by elite demons of an approximate five-man difficulty, although easily solable by a level 80.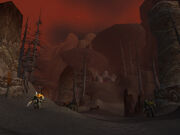 This treacherous cavern laid along Winterspring Valley's southern slope. Poisonous green vapours bubbled out of acid pools deep within the bottom of the gorge. Malevolent sounds echoed from a cave at the furthest end of the gorge, leading some night elves to believe that demons may have taken refuge in the toxic depths.[1] (WRPG 213)
The demons in this area were important to a number of quests, unlike their Blasted Lands counterparts.
Notes of interest
Despite the hazards, this area possessed several valuable resources, especially rich thorium veins. One could also find truesilver here.
The Hederine demons which inhabited this area dropped

[

Tears of the Hederine

]

, a quest item for the warlock quest  [60] 

The Prison's Casing

, the second quest in the chain which led to the acquisition of the doomguard.
Additionally, the Hederine Slayers and the Hederine Initiates had a very small chance (0.5%) to drop

[

The Eye of Shadow

]

, a quest item in the epic priest quest to obtain

[

Benediction

]

.
An imp, Vi'el, lived in a cave in the Gorge. Among other "exotic reagents", he sold several items of particular note:
The high elf Earthcaller Franzahl could be found at the bottom of the gorge to the south. He explained to players possessing any of the parts of

[

Thunderfury, Blessed Blade of the Windseeker

]

how to smelt Elementium.
"Unused Instance Portal" - An instance portal with a runed gate existed in the lower part of the Gorge. It could be found

at [50, 83]. This was most likely the entrance to Hyjal, as one could see trees and grass behind the portal, especially when using Far Sight: the trees and vegetation matched the ones from the Caverns of Time Mount Hyjal raid instance, and a giant, blackened crater at the end of a winding path trough the area could indeed be the effect of Archimonde's destruction.
Patch changes
Patch 4.0.3a

(2010-11-23): Incorporated into Mount Hyjal from Winterspring.

External links