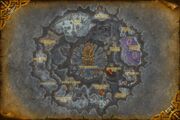 Deepholm is the level 82-83 levelling zone of Cataclysm. Breadcrumbs to Deepholm first send players to the Earthen Ring earthshrines just outside Stormwind City and Orgrimmar. During The Maelstrom, players take a portal to see Thrall in the Maelstrom. Players are then dropped off at the Temple of Earth in Deepholm to start the long process of recovering the three World Pillar fragments.
Deepholm is a lightly-phased directed questing experience. The zone plays out as one long quest chain circling around the zone and winding up with a climax back at the Temple of Earth. At that point, optional daily quests open up with the Therazane faction.
After Deepholm comes Uldum, starting in the Temple of Earth with some foreshadowing quests at the Twilight Terrace.
Upper World Pillar Fragment
From the Eastern Earthshrine in Stormwind / the Western Earthshrine in Orgrimmar:
Middle World Pillar Fragment
 [82] 

Where's Goldmine?

 [82] 

Something that Burns

 [82] 

Apply and Flash Dry

 [82] 

To Stonehearth's Aid

Complete all of:
 [82] 

The Quaking Fields

 [82] 

One With the Ground

 [82] 

Bring Down the Avalanche

 [82] 

Shatter Them!

/  [82] 

Battlefront Triage

/  [82] 

Fixer Upper

 [83] 

Rush Delivery

 [83] 

Close Escort

 [83] 

Reactivate the Constructs

/  [83] 

Mystic Masters

 [83] 

Down Into the Chasm

 [83] 

Sprout No More

/  [83] 

Fungal Monstrosities

 [83] 

A Slight Problem

 [83] 

The Hero Returns

 [83] 

The Middle Fragment
To The Very Earth Beneath Our Feet.
Lower World Pillar Fragment
To Uldum!
As soon as players hit level 83, the Uldum storyline opens up inside of the respective faction rooms of the Temple of the Earth.