This article is about the ship. For other uses, see Destroyer (disambiguation).
Destroyers were fierce battleships during the Second War. Destroyers are heavy, iron-clad warships that can quickly carry a half-dozen heavy cannon to any point on a coastline and bombard a target into submission.[1] The destroyer moves at 20 miles per hour and has a crew of 7 (1 pilot and 6 gunners).[2]
Troll destroyer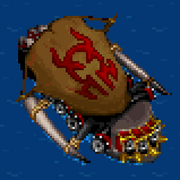 Troll destroyers (also known as "wave riders") are swift, ill-visaged longboats designed to cut through enemy armadas and deal damage to enemy vessels and their flying support. The savage troll crewmen are eager to enter into combat against Alliance ships of war and hungrily await any chance to stand mast to mast against the elven destroyers.[3] (W2Man 76) They were part of the orcish armada during Warcraft II.
Elven destroyer
Elven destroyers are powerful warships from the fleets of Quel'Thalas. Crewed with highly-skilled elven seafarers, these swift-sailing vessels are prepared to engage the enemy wherever they may be found. Elven destroyers constitute a critical part of the Alliance naval defense force as they can unleash their firepower upon dreaded aerial forces of the Horde.[3] (W2Man 49) The blood elves later reclaimed a few destroyers, the ones that were reclaimed received new red sails instead of the classical blue with a unicorn image.
Elven destroyers of the trireme hull type employ "junk sails" in a "schooner rig". This sail configuration is characterized by good windward handling and generally good speed across all sailing points (but less from running with the wind). This is consistent with the idea that the elven destroyer is a fast, highly maneuverable warship.
World of Warcraft

This section concerns content exclusive to World of Warcraft.
Many ruined elven destroyers can be found. Troll destroyers do not appear.

This section concerns content exclusive to The Burning Crusade.
An intact elven destroyer can be found anchored in Sunsail Anchorage in Eversong Woods. Several more are anchored in the waters of the Isle of Quel'Danas.

This section concerns content exclusive to Wrath of the Lich King.
Forsaken have destroyers around Howling Fjord.[4] The one specially mentioned in the quest is the same as the others in the zone (like The Windrunner).
Also the first high elven destroyer has appeared, named the The Wavecrest.
Gallery
References