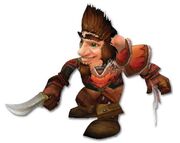 A puissant skill with a weapon, a keen intellect and a wicked wit all comprise the essentials of the duelist. Rare among the Horde, but often encountered swaggering along the promenades of human and goblin coastal cities, the duelist is a skilled sword fighter capable of amazing feats in battle. Relying on an almost supernatural skill with their weapons, the duelist is a welcome asset to any group.[1]
In World of Warcraft
Duelist is also a Title awarded to Arena participants who place in the top 0.5% - 3.0% range in their Battlegroup at the end of an Arena Season. The achievement

 Duelist can be completed for receiving this title at level 80.
References