The subject of this article was either removed from World of Warcraft or is no longer available due to the devastating Cataclysm.

The in-game information in this article is kept purely for historical purposes and may not need to remain under any other categories.
Dungeon Set 1 is a type of item set. Each set consist of 8 pieces.
The items in this set can no longer be acquired. They no longer drop as of patch 4.0.3.
Sets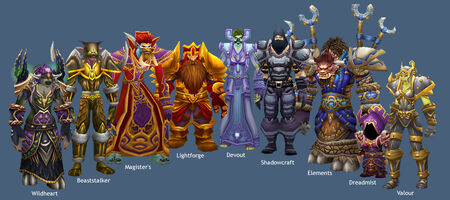 While the pieces are not bound to any specific class, they are still designed with particular classes in mind, and each set can only be upgraded by one class.
Location
The items that form those sets are found in the lvl 58-60 instances (Stratholme, Scholomance, and Blackrock Spire (upper and lower). For details, refer to the set page.
All pieces drop from various bosses throughout those instances except:
The other pieces are bind on equip and can drop randomly in a number of locations including the above listed as well as Dire Maul.
Notes 
Each set's Bracers, Belt and Gloves are bind on equip, thus allowing them to be traded.
The Dungeon Set 1 can be upgraded through quests to form the Dungeon Set 2.
This Dungeon Set 1 is also know as "Tier 0" by many players. While Dungeon Set 2 is known as "Tier 0.5"
External links

Wowhead
Dungeon Sets 1
Armor sets
 

Level 60
Dungeon
Faction
Raid
PvP
Non-class
Crafting
 

Level 70
Dungeon
Raid
PvP
Arena
Crafting
 

Level 80
Raid
Arena
Crafting
 

Level 85
Raid
Arena
 

Level 90
Raid
Arena
Challenge Mode
 

Level 100
Raid