Earthroot

Sell Price: 20
Vendor 80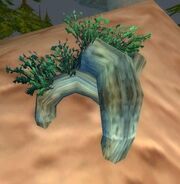 Earthroot (formerly known as Snakeroot) is a Herb that can be gathered by Herbalists. Requires 15 Herbalism to gather.
Source
Earthroot can be found along cliff faces and hills in low-level zones. It can also be found in limited supply at vendors. It is also a quest reward from the Alliance Alchemy quest Elixirs for the Bladeleafs.
Pickable zones
Earthroot as an Ingredient
Earthroot is used in the following recipes:
Alchemy
Inscription
Earthroot as a Quest Objective
Patch changes

/

Patch 4.0.1 (12-Oct-2010): Gathering this herb now gives experience.

External links

Earthroot Farming - OmgNab.com