This article or section contains information that is out-of-date.

Please replace the old information with up to date information.
This may include rewriting sections to ensure they are clear and concise, and wikifying.
Reason: Needs newer maps and general review.
For other uses, see Azeroth.
The Eastern Kingdoms (often called Azeroth[1][2][3][4][5][6]) are the eastern continents on the world of Azeroth.[7] The Eastern Kingdoms is made up from a group of subcontinents (Azeroth, Khaz Modan and Lordaeron) formed from the original continent of Kalimdor following the Great Sundering. The Eastern Kingdoms lie to the east of the Great Sea and to the west of the Forbidding Sea. The central part of the Eastern Kingdoms is dominated by the Khaz Mountains and the Redridge Mountains. Both cover several zones. The Eastern Kingdom's western counterpart is the continent of Kalimdor.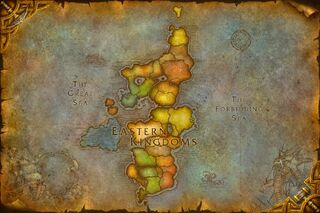 The Eastern Kingdoms include the three continents of Lordaeron,[8] Khaz Modan,[9] and Azeroth.[10] The Eastern Kingdoms are the homes of the undead, dwarves, gnomes, blood elves, humans, worgen, and few remaining high elves.
An old map that was on the Blizzard web site and the Warcraft RPG shows that the Eastern Kingdoms are divided into three continents:
Quel'Thalas seems to make up a fourth continent in some maps. Most of the time, it appears that the Eastern Kingdoms are divided into only three continents, as Quel'Thalas is shown as part of northern Lordaeron.
Geography
Eastern Kingdoms is actually considered to be three subcontinents: Lordaeron in the north, Khaz Modan in the middle, and Azeroth (the continent) in the south. It has a variety of climates like Kalimdor, but has more zones that show damage from humanoid intervention. The Alliance dominates the central and southern parts of the continent (with the exception of Stranglethorn Vale). However, the north is the stronghold of the Forsaken and regions scarred by the Scourge.
Unlike Kalimdor, the Eastern Kingdoms have very few desert areas (except for the Badlands), but several areas are wastelands (the Blasted Lands, Burning Steppes, Deadwind Pass, and Searing Gorge). There are areas of marshland like the Swamp of Sorrows and the Wetlands, but temperate forests and hills proliferate. For some reason the mountainous areas surrounding Ironforge appear to be perpetually snowy, while most of the other regions are temperate or warmer.
Zones

In-game
Capital cities
Alliance
Former
Horde
Battlegrounds
Dungeons
Main article: Instances by continent
Races Per Faction
Alliance
Horde
See also
Media
Images
Videos
References
External links
Old

WoW.GamePressure.com

WOW Scribble Maps
Eastern Kingdoms Map
Regions of the Eastern Kingdoms
Azeroth
Khaz Modan
Lordaeron
Quel'Thalas
Vashj'ir
Other
Eastern Kingdoms category