(added 0.5.3 minimap image)

Line 104:
Line 104:
 

Image:War2.jpg|Eastern Kingdoms in Warcraft II, four continents.

 

Image:War2.jpg|Eastern Kingdoms in Warcraft II, four continents.

 

Image:EasternKingdoms.jpg|As it appears on the minimap in Cataclysm.

 

Image:EasternKingdoms.jpg|As it appears on the minimap in Cataclysm.

 
+

Image:AzerothAlpha.jpg|As it appeared on the minimap in patch 0.5.3.

 

</gallery>

 

</gallery>

 
 
---
Revision as of 08:16, 5 April 2013
This article or section contains information that is out-of-date.

Please replace the old information with up to date information.
This may include rewriting sections to ensure they are clear and concise, and wikifying.
Reason: Needs newer maps and general review.
For other uses, see Azeroth.
The Eastern Kingdoms (a few times called Azeroth[1][2][3][4][5][6]) are the eastern continents on the world of Azeroth.[7] The Eastern Kingdoms is made up from a group of smaller continents (Azeroth, Khaz Modan and Lordaeron) formed from the original continent of Kalimdor following the Great Sundering. The Eastern Kingdoms lie to the east of the Great Sea and to the west of the Forbidding Sea. The central part of the Eastern Kingdoms is dominated by the Khaz Mountains and the Redridge Mountains. Both cover several zones. The Eastern Kingdom's western counterpart is the continent of Kalimdor.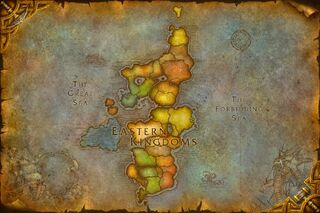 The Eastern Kingdoms include the three continents of Lordaeron,[8] Khaz Modan,[9] and Azeroth.[10] The Eastern Kingdoms are the homes of the undead, dwarves, gnomes, blood elves, humans, worgen, and few remaining high elves.
An old map that was on the Blizzard web site and the Warcraft RPG shows that the Eastern Kingdoms are divided into three continents:
Quel'Thalas seems to make up a fourth continent in some maps. Most of the time, it appears that the Eastern Kingdoms are divided into only three continents, as Quel'Thalas is shown as part of northern Lordaeron.
Capital cities
Alliance
Horde
Battlegrounds
Dungeons
Main article: Instances by continent
Playable Races
Alliance
Horde
See also
Videos
This video will provide an "annotation adventure" which will lead you to other videos containing overviews of updated zones in World of Warcraft: Cataclysm (courtesy of Jesse Cox).
References
External links
Old

WoW.GamePressure.com

WOW Scribble Maps
Eastern Kingdoms Map
Regions of the Eastern Kingdoms
Azeroth
Khaz Modan
Lordaeron
Quel'Thalas
Vashj'ir
Other
Eastern Kingdoms category
Community content is available under
CC-BY-SA
unless otherwise noted.