Ebon Hand

Item Level

70

Speed 2.50
90 - 168 Damage
(51.6 damage per second)
+9 Stamina
+7 Fire Resistance
Durability 105 / 105
Requires level 60
Chance on hit: Sends a shadowy bolt at the enemy causing 125 to 275 Shadow damage.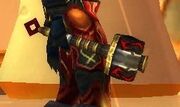 The Ebon Hand is a one-handed mace crafted by blacksmiths. The mace holds a darkness inside which it occasionally unleashes on its victims.
Source
The mace is crafted by Blacksmiths with a skill level of 300 who also have the Hammersmith specialty.
The components are:
The

 [plans] are sold by Lokhtos Darkbargainer in Blackrock Depths. Players must be exalted with the Thorium Brotherhood before they can buy this pattern.
Patch changes
External links