The Emberstone Staff is a staff that gives bonuses to stamina and intellect.
Source
The Emberstone Staff is dropped from the Foe Reaper 5000 in The Deadmines.
Media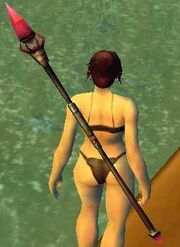 Notes
This is a great staff for any casting class. This is a reliable weapon for casters that you should hold onto until you're high enough level to get the Illusionary Rod from Arcanist Doan in Scarlet Monastery.
External links