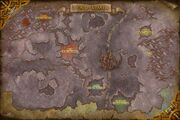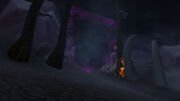 One of an infinite number of potential outcomes, this timeway depicts the desolate future of Azeroth should its defenders fail to stop Deathwing. In this bleak future, Nozdormu has identified an anomaly that bars access to both the past and the Dragon Soul: a powerful creature from out of time, living alone amid time-twisted echoes of the past.
In order for Nozdormu to provide you the ability to travel back in time to a point before the Dragon Soul was hidden by Malfurion Stormrage from anyone who'd seek its power, you must first go to a distant and desolate future to discover the anomaly blocking the past. You'll find yourself in a very different Dragonblight, stripped of its snowy landscape, with little more than ruins of the once-great dragonshrines. Wyrmrest Temple itself stands only as a reminder of Deathwing's madness -- what's left of his scorched remains is impaled atop the structure.
End Time is a 5-man, level 85 instance introduced in patch 4.3. It is the first part of a three-part series of dungeons involving the recovery of the Dragon Soul, followed by Well of Eternity and Hour of Twilight. Players will square off against two random bosses before confronting Murozond himself. In order to travel to the various Dragonshrines and back, players will use the Time Transit Device.
Background
Unlike most Caverns of Time wings, in this instance players will travel forward in time to investigate a possible future of what would happen if Deathwing succeeds in destroying all life on Azeroth. All that remains are the shades of ancient heroes, pure beings of wrath, anger, and grief.
These long-dead heroes are mere echoes of their former glory, further warped by the corruptive force of time. Their presence here is a great mystery, even to Nozdormu. Once these shades have been laid to rest, the maniacal figure blocking Nozdormu's vision will be revealed at the Bronze Dragonshrine.
None of the Dragon Aspects could have predicted what entity would have such power to interrupt the sight of the Timeless One… the ability to create a new and infinite dragonflight. Only by destroying a mysterious dragon known as Murozond will you give Azeroth's protectors the opportunity to avoid the potential outcome to which your eyes bear witness.
Quests
Denizens
See individual subzones at bottom of page for mobs.
Quest givers
Bosses
Players will face off against any random two before fighting Murozond; see individual subzones for trash mobs.
Strategy
See individual boss pages for strategies.
Loot
Videos
Various walkthroughs
Entrance location
See also
Patch changes
External links

WoW Official Game Site (US)
Patch 4.3 Dungeons Preview, Part One: End Time
by Zarhym, Sep 19, 2011 9:00 AM PDT

WoW Official Game Site (EU)
Patch 4.3 Dungeons Preview, Part One: End Time
by Zarhym, 19 Sep 2011 16:00 UTC
Guides
Icy Veins
End Time walkthrough