Ezra Chatterton (aka Ephoenix, 1996-2008) was a brain cancer patient from California and an avid player of World of Warcraft who played with his father Micah on the Norgannon US server. Fulfilling his dream of creating a character for World of Warcraft, Ezra visited Blizzard Entertainment's offices through the Make-A-Wish Foundation. He worked with Tigole in creating Ahab Wheathoof, a tauren farmer looking for his missing dog Kyle, in

 [5] Kyle's Gone Missing!; he also provided the voice. Ezra also received the world first [Ashes of Al'ar] (the phoenix was Ezra's personal symbol, as well as his middle name) and created the [Merciless Gladiator's Crossbow of the Phoenix].
Ezra suffered a stroke in August 2008, and passed away on October 20. As the news reached the general public, thousands of players sent messages of condolence, and Horde players journeyed to Mulgore to complete the quest in his memory.[1] Blizzard also paid a special tribute; beginning with 2009's Lunar Festival, the Elder in Thunder Bluff has been renamed Ezra Wheathoof in his memory.
We miss you, Ezra!!
Ezra Chatterton's creations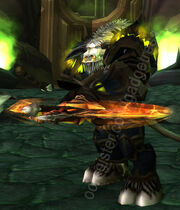 Blizzard Entertainment news post about Ezra's passing
References
External links

Archive.org
Ezra Chatterton Memorial
(archived 1-Sep-2009)
News

ocregister.com
Micah Chatterton's tribute to his son after his passing

ocregister.com
Blizzard makes WoW wish virtual reality