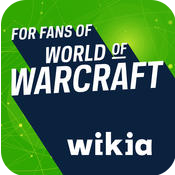 The Fandom Community for: World of Warcraft is a mobile app version of WoWWiki developed by Wikia that varies slightly from the mobile skin. It is part of a family of Fandom Communities. It has a few features not available in the mobile skin, but should have a more unified experience as time goes on.
App features
These are features that distinguish the app from the mobile skin:
Dark theme - more similar to desktop experience.
Side scrolling - of Trending pages and popular Videos.
Home - jump to the main home screen from anywhere in the app.
Random - jump to a random page.
History - keep track of recently visited pages.
Communities - browse the hundreds of other Wikia Fan Apps by category.
Videos - listed by Trending, Latest, and Most Popular.
Settings - settings and more app info.
References
See also
External links
iOS
iTunes.Apple.com
Fandom Community for: World of Warcraft
By Wikia, Inc. (Updated: Oct 27, 2016; Version: 2.4.1)
Google Play
Play.Google.com
Fandom: World of Warcraft
Wikia, Inc. (Updated: October 26, 2016; Current Version: 2.5.1; Requires Android: 4.1 and up