The Fel Horde is a new term used by the Alliance and the Horde in Hellfire Peninsula, particularly in Hellfire Citadel, to describe the fel orcs living there (the fel orcs call themselves the "true horde"). It is believed that this is simply a new term for the Orcs of the Horde's clans affected by the demonic corruption that is being siphoned out of the pit lord Magtheridon. Magtheridon is now held captive by Illidan Stormrage, the new Lord of Outland — who uses the pit lord to corrupt more orcs to boost his growing army.
Leadership
Clans of the Fel Horde
The membership of the Fel Horde is largely the remnants of the old Horde of Draenor, which was ruled by the shaman Ner'zhul during the time of the battles Beyond the Dark Portal. It should be noted that many (perhaps all) of the clans listed below are in fact divided, and do not universally support the Fel Horde. (For example, members of the Shattered Hand clan also reside in Orgrimmar as its rogue's guild and dutifully serve Thrall.) The Shattered Hand orcs that live in Orgrimmar, however, left Draenor twenty years ago and are not fel orcs (they still have green skins and the such).
For our purposes, however, large groups of orcs from the following clans have traveled to Hellfire Citadel and become fel orcs, and now collectively obey Warchief Kargath Bladefist. While the former leaders of these old Horde clans did not all survive, some clans such as the Bonechewer clan and the Bleeding Hollow clan still operate under the dominance of their own clan-specific Chieftain as well as Kargath.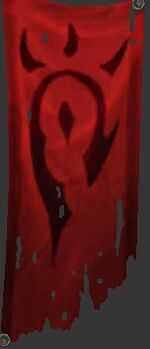 Known members: