For general info on all sorts of flying mechanical devices, see flying machine.

Flying Machine Control

Item Level

60

Requires level 60
Requires Expert Riding
Requires Engineering (300)
Use: Teaches you how to summon this mount. Can only be used in Outland or Northrend.
Flying Machine Control summons a gyrocopter-like flying machine. It seems to resemble the dwarven variant (as seen in Warcraft III) of the original gnomish flying machine (as seen in Warcraft II). It is a rare-quality flying mount available only to engineers and features two distinct modes: a hovering terrestrial version where the engines are stationed vertically, and an aerial mode where a horizontal propeller is deployed from the machine's chassis. If not moving and standing on ground, the gyrocptor may randomly stop working and just smash to the ground. Similarly, if you are staying still while midair, the engine will fail and you will drop down a bit, but then restart within 4 seconds or if you move. This will not cause any damage to you, and will start working as soon as you move. The epic version of this mount is summoned by the [Turbo-Charged Flying Machine Control].
Source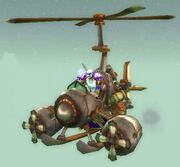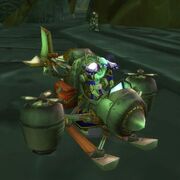 The schematic for this device can be learned in Shadowmoon Valley, either from Jonathan Garrett in Shadowmoon Village or Niobe Whizzlespark in Wildhammer Stronghold at level 60 for the modest price of 6

. A quirk of interest to more 'adventurous' players: both will teach the pattern to anyone qualified regardless of the engineer's faction. Whether this is advisable is left to the discretion of those tenacious enough to be making the decision. You can also learn this schematic at Honor Hold, while the epic version is found at the other locations.
In addition the controller requires:
300 Engineering to learn the schematic and use the item.
Level 60 to learn the schematic and use the item.
Expert riding.
Raw materials
Patch changes

Patch 3.2.0 (04-Aug-2009): The level requirement needed to learn how to build and use this machine has been reduced to level 60, down from level 70, and the engineering skill level reduced to 300, down from 350. Material costs reduced.


/

Patch 3.0.2 (14-Oct-2008): This item was a required part of making the [Turbo-Charged Flying Machine Control], but was replaced by 4x[Adamantite Frames].

External links