Frost Nova

Frost Nova



30 sec cooldown
2.0% of base mana
Blasts enemies within 12 yds of the caster for X Frost damage and freezes them in place for up to 8 sec. Damage caused may interrupt the effect.

Usable by
Class
Mage
Properties
Type
Offensive
School
Frost
Casting time

Instant cast

Cooldown
30 sec (GCD 1.5 sec)
Level required
3
Related debuff

Frost Nova
Frozen in place.
Duration: 8 seconds

TCG

image
For the Warcraft III ability, see Lich (Warcraft III).
| | | |
| --- | --- | --- |
| " | Litori's pursuers found themselves quite literally frozen in their tracks. | " |
Frost Nova is a core mage ability learned at level three. It is a point-blank area of effect spell that does light damage and freezes all enemies within 12 yards of the mage, rooting them in place for 8 seconds. Rooted enemies have a chance to break out each time they take damage; this check is made every time damage is dealt from any source.
Modified by
Talent

Arcane specialization ability
Tips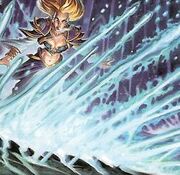 Use Frost Nova to root enemies in place and then gain some range to cast spells without getting hit. This is especially effective against melee-only enemies, as they will not have any other way to attack you. Against caster-type enemies, use Frost Nova to gain range along with [Counterspell] to interrupt their casting. Also use Frost nova to root enemies that you may have pulled off the tank, and allow them to regain aggro.
Frost Nova is an important ability in the frost specialization when [Shatter] is gained, as it is a guaranteed freeze effect. The Shatter ability works on any target rooted by one of your frost spells.
Patch changes
External links