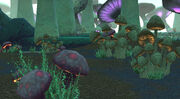 Fungi (mushrooms) are edible sporebearers, and is one of the six main types of food in WoW.
Uses
(These are the same uses as other types of food.)
Sources
Types of buyable fungus
1 This is the base price before any discounts.
Notes
As with other food types, some inventory items are 'fungus' and use fungus graphics for their icon, but are not fungus (food) in the game. For example,

 [Ghost Mushroom] is an herb that can be gathered by herbalists, and is used in alchemy recipes.

 [Redcap Toadstool] is curative item that is 'used' (presumably ingested) like a potion would be used, rather than eaten over time, requiring sitting, like a food.

 [Tallstalk Mushroom] is another fungus that is 'used' rather than eaten.

 [Glowcap]s are collected as a repeatable reputation turn-in quest item, then used as currency for purchases with the Sporeggar Faction.
See also: fungus vendor