This article concerns content exclusive to Warlords of Draenor.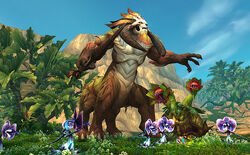 Genesaur are a type of hybrid creatures introduced with Warlords of Draenor. They are on the same scale as the magnataur and described as lumbering beasts. They appear to be a cross between a lion and reptile, having enormous tusks protruding from their lower jaws.
Background
Genesaur are enormous demigods who date back to the age of colossals, when giants shaped the terrain of Draenor amidst constant warfare. The botani have retained the ability to communicate with these bastions of life, and genesaurs are revered as gods in their culture. Draenei have not yet determined if genesaur are immortal or not; genesaur emerging from botani-tended pools often retain the memories and will of their long-dead forebears. Adventurers fortunate enough to catch a glimpse of these rare beings are cautioned to give genesaur a wide berth. They are deceptively quick given their size and destroying them will take a small army of well-equipped heroes.
Speculation
| | |
| --- | --- |
| | This article or section includes speculation, observations or opinions possibly supported by lore or by Blizzard officials. It should not be taken as representing official lore. |
This species vanished or was completely annihilated when Draenor was shattered into Outland.