Goats are small livestock. Goat's milk is used to make cheese. Their fur can be used to make clothes, such as cloaks. They are located primarily on the continent of Pandaria.
Hunter pet
Specialization (upon taming)

Ferocity
The Goat eats






The Goat comes with


All pets come with


Though hunters can respec their pet goats into Cunning or Tenacity, they are inherently Ferocity. In addition to the abilities that come standard with all pets ([Growl] and [Avoidance]) and those given to their natural or retrained specialization, all goats are given the following:
Subspecies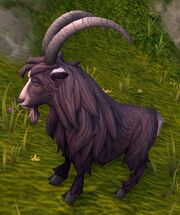 The subspecies below can be tamed by hunters.
Black
Brown
  [86-87]  

Wild Shaghorn

(also spotted)
Grey
White
Named
Vanity/Battle pet
See also
Patch changes
External links

Petopia