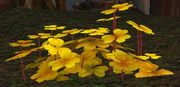 Goldclover is a herb that can be gathered by herbalists. Requires 350 Herbalism to gather.
Source
Goldclover is a yellow clover that grows in open fields devoid of snow. It is found in:
It can also be gathered from Frozen Herb spawns in the Dragonblight (10), Zul'Drak, and Wintergrasp. It is the lowest-level herb in Northrend, and usually the first one that herbalists will encounter and harvest.
Reagent for
Milling
Patches and hotfixes

/

Patch 3.0.2 (14-Oct-2008): Added

External links
Goldclover Farming - OmgNab.com