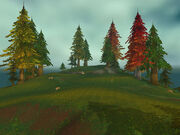 Not to be confused with Headlands.
The Headland
[45, 50]
is a hill that juts over Hillsbrad. It is covered with Mountain Lions.
The Alliance entrance to the Alterac Valley battleground is located here.
In Cataclysm

This section concerns content exclusive to Cataclysm.
Dwarves from the Stormpike clan have expanded beyond Alterac Valley to erect a training ground/dueling center here for a number of their troops.