For the role of healing in World of Warcraft, see Healer class.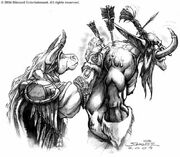 Healing is a cleric spell. The aiding of our brothers and sisters in times of sorrow, grief, and illness is the primary concern of the disciples from Northshire Abbey. This has required us to devise a way to ease the burdens of those about us, without causing another an equal burden. This has led us to using the spirit of humanity itself to heal all forms of injury or disease. The effect is that the pain and injury of the one afflicted is divided amongst all humanity, making the burden easier to bear (carrying the cross of another).[1] (W1Man #?)
Other meanings
Community content is available under
CC-BY-SA
unless otherwise noted.