For the currency, see Honor point.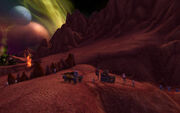 Honor Point is an unnamed Alliance outpost in northeastern Hellfire Peninsula, at
[68, 28]
just to the southeast of the Throne of Kil'jaeden. Field Marshal Brock leads the Honor Hold operation and Gryphoneer Leafbeard gives players the opportunity of taking a gryphon to the floating Shatter Point further east.
Patches and hotfixes