Horn of the Frostwolf Howler

Item Level

40

Requires level 40
Requires Riding (150)
Use: Teaches you how to summon this mount. This is a very fast mount.
Vendor 2000  
"Frostwolf Howler" redirects here. For the achievement, see Frostwolf Howler (achievement).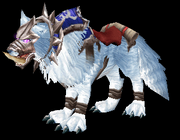 The Frostwolf Howler is an epic wolf mount, only rideable by players of the Horde. It was formerly only available to players who had reached the exalted reputation with the Frostwolf Clan faction (Horde Alterac Valley), but is now available to anyone (in the Horde) who has the necessary honor.
It may be interesting to note that the Frostwolf Clan was named after this creature and that these wolves have a great bond with shamans.
Source
This item is a PvP reward, and can be purchased for 2000

  from

 Grunnda Wolfheart in Alterac Valley and

 Jorek Ironside in Alterac Mountains.
You need

 Riding skill of 150. The wolf is white with a red saddle and blue armor.
Patch changes
External links