The subject of this article was removed from World of Warcraft in patch 3.0.2.

This includes items and quests that can no longer be obtained.
The in-game information in this article is kept purely for historical purposes and should probably not be under any other categories.

Iblis, Blade of the Fallen Seraph

Item Level

81

Speed 1.60
70 - 131 Damage
(62.8 damage per second)
Durability 105 / 105
Requires level 60
Equip: Increases your critical strike rating by 14.
Equip: Increases your hit rating by 10.
Equip: Increases attack power by 26.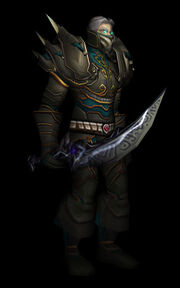 Iblis, Blade of the Fallen Seraph is a fast one-handed sword with a blue glow, similar to that of the weapon damage enchant.
Source
Iblis, Blade of the Fallen Seraph drops off Instructor Razuvious, the first boss in the Deathknight Wing in Naxxramas in Eastern Plaguelands.
Notes
Iblis is, indeed, a runeblade, akin to that individual runeblade of every high-ranking death-knight.
Iblis is the name given to the primary devil in Islam. The Arabic word for Satan is "Shaitan." Seraph is a kind of angel in Judeo-Christian religions.
May be related to Grand Patriarch Iblis Ginjo from Dune, who set up the Seraphim to guard Serena Butler.
See also
External links