Illidan's forces[1][2][3] (also called Illidan's army[4][5][6]) consist of various factions that have banded together under the rule of Illidan Stormrage. They are one of the prime enemies of the Alliance and Horde in Outland, the other being the Burning Legion. The Betrayer commands vast armies throughout Outland, and even a few select groups on Azeroth; there are only a few places in the shattered world that are not inhabited by his legions.
With Illidan's death, it's presumed that this alliance of factions has fallen apart and now operate independently.
Composition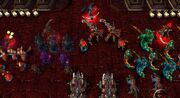 Illidan's armies include:
Leaders
Former leaders
Other notable members
Former notable members
References
Community content is available under
CC-BY-SA
unless otherwise noted.