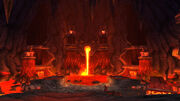 The Inner Spire can be accessed via a portal in the middle of the Sanctum of the Prophets
[55.5, 66]
at Mount Hyjal, very close to Sulfuron Spire. It is within that players will fight Ragnaros with the aid of the heroes Cenarius, Malfurion Stormrage, and Hamuul Runetotem.
Inhabitants
During quest only, otherwise empty
NPCs
Mobs
Notes
You can fish within the Inner Spire, but there are no pools to speak of.
Media
Patch notes
External links