Not to be confused with Stabled Ironforge Ram.

Ironforge Ram

Item Level

40

Mount"Mount" is not in the list (Cloth armor, Leather armor, Mail armor, Plate armor, Axe, Dagger, Fishing pole, Fist weapon, Mace, Miscellaneous, ...) of allowed values for the "Item type" property.
Races: Human, Dwarf, Night Elf, Gnome, Draenei
Requires level 40
Requires Riding (150)
Use: Teaches you how to summon this mount. This is a very fast mount.
Vendor 100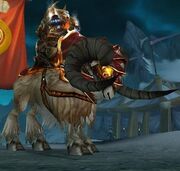 Source
Ironforge Ram can be purchased for 100

from the quartermaster of the Argent Tournament. You must either be a dwarf or have completed

 Champion of Ironforge to gain access to this vendor.
Patches and hotfixes

Patch 3.1.2 (2009-05-19): Name changed and model updated. Old model can be purchased for 500

5

as the [Swift Violet Ram]


Patch 3.1.0 (14-Apr-2009): Added

External links